Last month, I did a 3 week milk cure.  For those of you who didn't follow me during that time, I basically drank 3 1/2 quarts to a gallon of milk every day, sipping it for 12 hours. It was an interesting journey and I wouldn't be upset if you decided to go through all the posts in the series.
Since I buy raw milk from a farm, I need to place my order for it a week in advance. Since my pickup day is Thursday, this meant that I needed to order the first two weeks of milk for the milk cure prior to my beginning it and the third week's order was made just 5 days after I started.  I drank a gallon a day for the first week. By the time the second week had started and I cut down to  3 1/2 quarts of raw milk a day, all my orders for the milk were already in. I tell you this so you understand how I ended up with extra raw milk.
For the last two weeks, I drank 3 1/2 quarts a day. For the end of each week, I ended up with an extra 3 1/2 quarts (an extra 2 cups a day).  I measured out those 2 cups from my milk ration each morning and kept it refrigerated. The first week, a friend who lives nearby who was reading my blog, asked if he could taste the milk.  I brought it over and he liked it, so I left it there with him. The second week, I had to decide what to do with the extra milk.
Raw milk is an amazing substance. Unlike pasteurized milk which simply spoils and goes putrid after a period of time, raw milk will not go bad.  Because of all the enzymes that are part of the milk, it defies pathogens. It also doesn't spoil, it sours.  Sour milk can still be used for many recipes. I wanted to experiment, so besides my usual yogurt making, I decided to clabber my extra milk.
Clabber is a naturally sour/fermented raw milk that is actually shelf-stable. Making clabbered milk is easy if you have access to raw milk.  It consists of the following steps: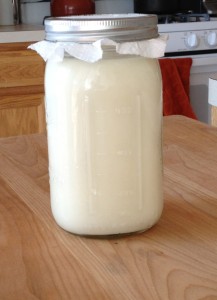 Pour milk into a jar and leave it covered with a towel (or in my case a paper towel) to allow friendly bacteria/wild yeasts to enter.  Let it sit on your counter.
Twice daily, take the paper/towel cover off and replace it with a proper lid for gentle shaking. This ensures that the bacteria is distributed equally in the milk. Then replace the lid with a paper/towel.
Eventually the cream will rise to the top and you will see some bubbles.  The clabber at this point is thicker than fresh milk and sour.  This can take from 2 to 4 days, just be patient. If you want, you can stop the process right here by refrigerating the clabbered milk.  This is useful in recipes calling for soured milk.
But I like to take it a bit farther (mostly because I don't want the sugars right now and I also want the whey for other ferments)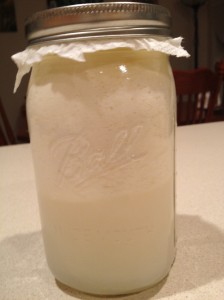 Finally, the curds and whey will separate.  Once this process starts, let it continue for at least 12 hours. It's hard to get the curds out of a container, so I suggest you use a container with a wide mouth.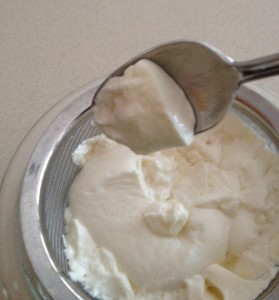 Drain the whey out. Place the curds in a strainer (a yogurt cheese strainer works very well for this) and let the whey drain for a few more hours. You then have a rich and tangy clabber with a consistency of a creamy cheese.
Since the clabber is fermented it can either be refrigerated or left out during the fall, winter and spring.  For summer especially, I would recommend refrigeration.
Clabber has a number of uses, you can simply spread it on toast, or mix in herbs and other items for a flavored cheese. It can also be used as a starter for cottage cheese or sour cream or cultured butter. I eat it like yogurt as well.  Because I have never been able to make a good raw milk yogurt using a starter, this gives me the benefits of raw milk and the taste of yogurt. It's thick and creamy and reminds me of greek yogurt.  Because all the whey is gone, the clabbered milk  is protein rich and light on sugars and carbohydrates.  Too tangy for you?  Add some honey.
Waffles and pancakes, biscuits or bread (gluten or gluten-free) will benefit from having the more sour milk type clabber added in place of regular liquid.
Historically, most milk was fermented in some way prior to use.  Fresh milk just didn't last long.  Clabber is one of those ways.  Clabbering milk is one of the easiest, worry-free ways of prolonging your raw milk's usefulness and benefits.
Related articles